REMINDER PARENTS: Registration for the new 2021-2022 school year for Italy ISD OPEN. All registration will be conducted online in the Ascender Parent Portal just like last year. There have been some updates to the Ascender parent portal, the new link to the parent portal is
https://portals10.ascendertx.com/ParentPortal/login?distid=070907
Your login from last year will be the same as last year, if you have forgotten your password please click on the forgot password or forgot user name link to reset them. Once you are logged in you will see your students already waiting for you to continue their registration. For new student registration, please click on the Create Account tab to begin registering a new student who was not in Italy the year before. Please continue the registration and verify that all the information is current and up to date. Please double check the address information for parents, students, and emergency contacts is correctly entered into the correct space. This information is important and needs to be accurate so that when Italy ISD sends out messages and alerts that they go to the correct people. If you have any trouble with getting your user name or passwords, please contact the campus secretary of either school for assistance. The new Principal for Italy High School has a document for the Jr High and High school students and parents. Please read it carefully so you will know what is expected to have a smooth registration for the new year. Please make sure you have completed this in order to receive your schedule. If you have any questions please call 972-483-7411

Attention Parents Due to illness, there is a shortage of refs. Tuesday's game will be rescheduled to 10/22. The order of play will be Varsity, then JV, then Varsity. Come see these ladies play Blum on Friday in Blum. The order has changed, JV will play @ 4:30 pm with Varsity following.

Attention Parents UPDATE: JUNIOR HIGH VOLLEYBALL will play 3 games on 9/27 against Rio Vista! Beginning at 4:30 pm. See you there!

The Ellis County College Fair is September 22, 6-8pm at the Waxahachie Civic Center. Students must register to attend the event. Registration information is in the Class of 2022 & Class of 2023 Google Classroom.

Attention Juniors and Seniors - Italy High School will offer the ACT on October 19th. The deadline to signup is Friday, September 24th. Please see the HS Counselor for details.



Italy Volleyball update UPDATE: NO JV VOLLEYBALL GAME TOMORROW, September 14th. Covington just sent an email stating that they do not have enough to play.

UPDATE: JUNIOR HIGH GIRLS VOLLEYBALL will only play 1 game against Avalon on Monday, September 13th in Avalon, beginning at 5 pm

The Junior class is doing a fundraiser to raise money fo the 2021-2022 Prom selling Nothing Bundt Cakes Flavors are $5.00 ea. Chocolate chip Red Velvet White chocolate raspberry Lemon Confetti Classic Vanilla Orders are due Tuestday, September 14th Orders come in Thursday, September 30th To order please contact the School or find a Junior Class Member *Money is also due September, 14th* Cash or Checks made to Italy ISD Thank you!
pwhite@italyisd.org
972-483-7411


Dear Parents, I just wanted to inform you that next Wednesday, September 1, 2021 is school picture day. All students will take pictures as this will be the photo that goes in the yearbook and that is used for student ID's. Please see the attached information form explaining the process of ordering pictures online. Senior pictures will be scheduled at a later date. Thank you! Sharon Graves, Principal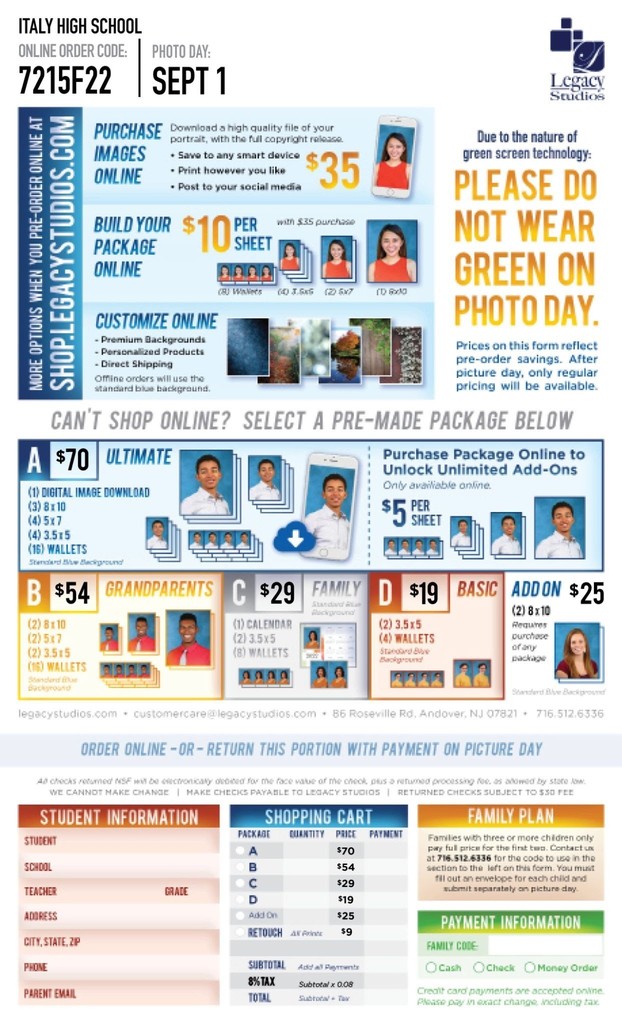 ALL Junior High and High School schedule changes are to be finalized by Friday, August 27th. Please see the Counselor (Room 100 B, Corridor C) to complete a "Course Change Request". ***Must have teacher and parent signature""" Thank you, Meredith DeBorde Italy Junior High/High School Counselor "One Voice, One Direction, One Team"

2021 Ellis County College Fair



Attention Parents: Reserved season passes for Italy ISD football will go on sale Monday, 8/23 in the admin office. $30 each seat. 972-483-7411
www.italyisd.org


Attention Italy ISD Parents, If you were unable to come to Jr High and High school schedule pick up today, you have another chance to come tomorrow. We will be open 1:30pm to 4:30 pm for anyone who wants to come pick up their schedule and Chromebook for the new school year. We will also reopen from 6:00pm to 7:30pm for the parents that can't make it to the earlier time slot. Remember we also have Meet the Teacher tomorrow night from 6:30pm to 7:30pm. That means you can come complete your students' registration, pick up their chrome book, pick up their schedule and meet their teacher in one evening. Just remember this you need to complete your online registration before you can pick up schedules. You will also have the opportunity to complete the online lunch application as well. Chrome book fees are $25 full, $15 reduced, and $10 for free lunch, and if you have more than one student, each additional student is only $10 unlimited. Don't forget that your student can also pay the first week of school and pick up their chrome books then as well. Hope to see you tomorrow night!

Awesome Job today by ALL teams! Your Lady Gladiators are ready for their next scrimmage, tomorrow at 10 am in the dome! Also, see the updated information pertaining to practices: