12 Days of Christmas for Italy ISD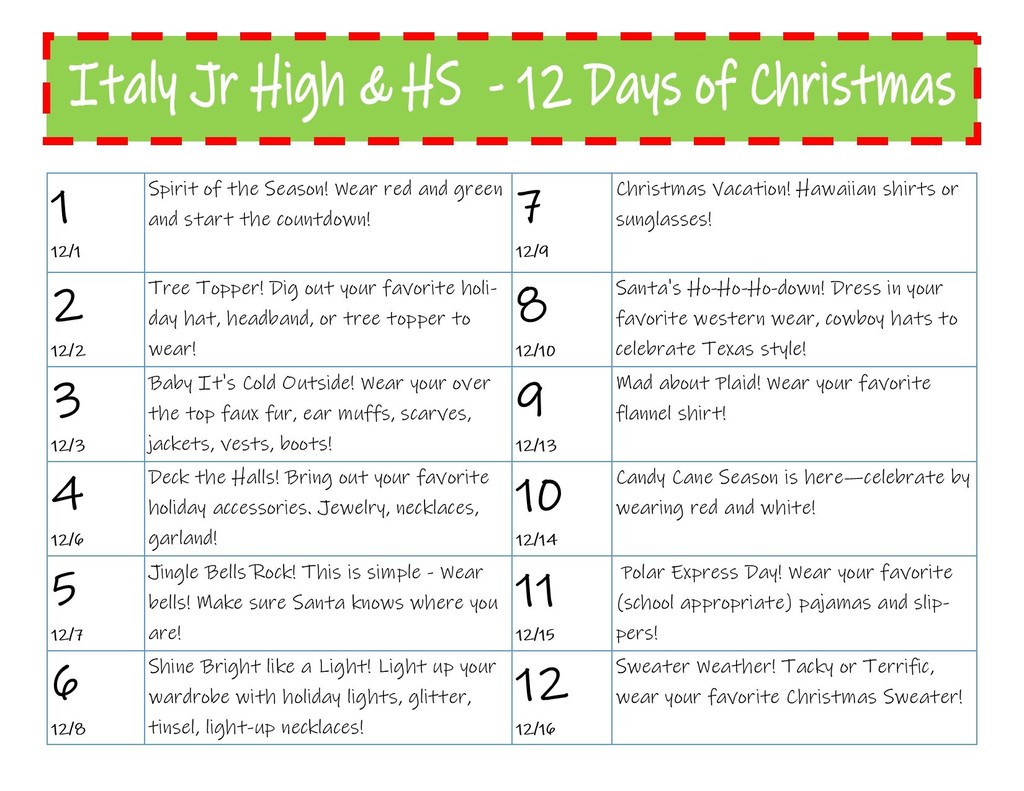 Attention patents there is no boys basketball game today due to the playoff game on Friday? Thanks
Dear Parents / Guardians, Your child has the opportunity to participate in an educational program outside of the classroom. Global awareness is more essential than ever for our children, and the best way to become globally aware is by traveling abroad. Experiencing new cultures not only opens students' eyes to the world, it also prepares them for the future. More and more colleges and universities are looking for international experience on students' applications to set them apart. Travel isn't just educational; it's an investment that gives your child an advantage in a competitive world. With that in mind, we're excited to announce that we are leading an international educational tour to the Dominican Republic in 2023! There is limited space so I do hope you and your child will be able to join us at the upcoming information night to learn more about this adventure of a lifetime. Your child can even earn high school or college credit by attending this educational tour. We will be hosting an informational meeting on Nov 11, 2021 to answer any questions, including how we're keeping the tour affordable and our risk free enrollment. We hope you will at least come and learn more! You must RSVP to be eligible for the scholarships. Please use the following link to RSVP or to request information:
https://bit.ly/3b4f5vi
Warm regards, Ms. Perales

SENIORS 2022 - It's time to celebrate YOUR future! We want to share your future plans with our community. Please let the counselor know when you get your letter in the mail, accept your dream job, make your decision on your future or receive a scholarship. Please email the following: 1. Take a photo of yourself (yes, show off your letter or banner) 2. What's your BIG NEWS ~ college acceptance, upcoming career after high school, scholarship, branch of service... 3. Email the information (letter of acceptance, announcement) to the counselor at
mdeborde@italyisd.org
Meredith DeBorde, MS, LSC Italy Junior High/High School Counselor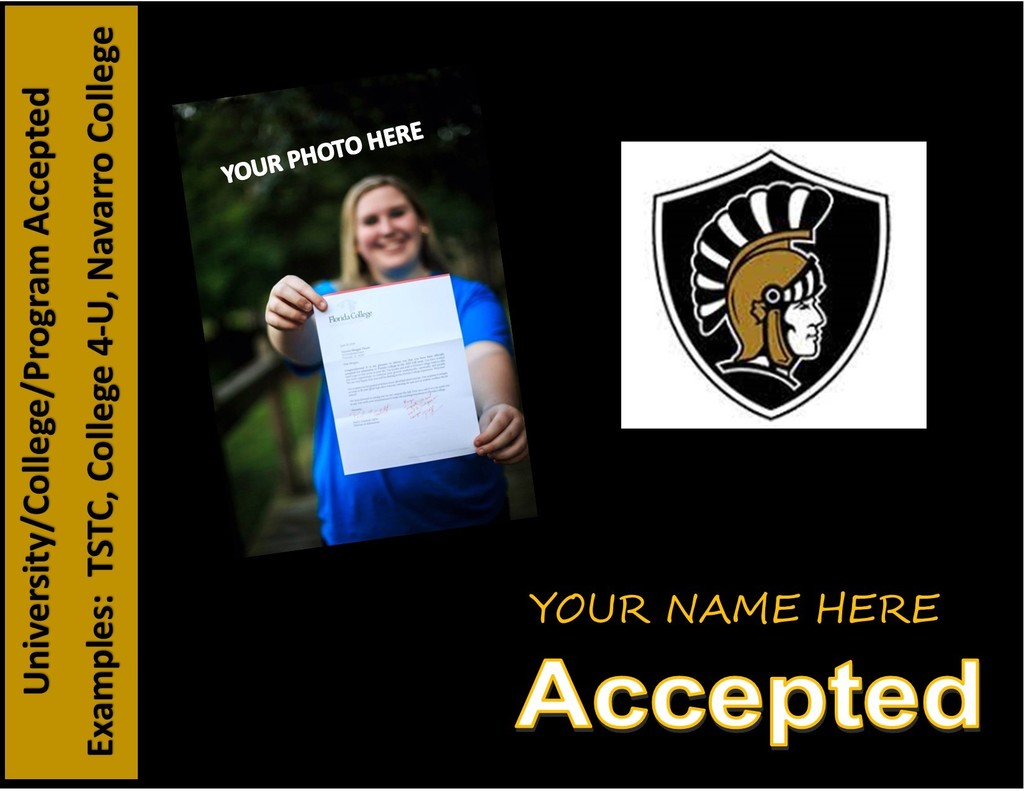 Lady Gladiator Basketball plays tonight (November 9) at 6:00 in Bruceville-Eddy. Come out and support the Lady Gladiators! Sharon Graves Principal Italy High School

Attention Italy Parents and Fans Please click on the included link to get the instructions for the Italy Varsity Playoff game on this Thursday at Robinson ISD Rocket Field. This link is attached to the instructions for getting to the game. Please share.
https://5il.co/11lzs

Parents and Community, Please come be our guest on Thursday, November 11, 2021 at 10:00 AM in the Dome for our Veteran's Day program. We want to honor any and all veterans in our community and beyond. Also, come back to the Dome at 3:05 PM for a pep rally as we send our varsity football team into the playoffs. We are so proud of them, and I know you are too. Come cheer them on before they leave for their game! Thanks! Sharon Sharon Graves Principal Italy High School


Attention all Graduating Seniors Please see pic of flier attached for FASFA working session for seniors and Parent/Guardians at Italy High School.

Homecoming 2021 Festivities Homecoming: Friday, October 8, 2021 Parade Information: Line Up begins at 1:30 – If you have a float, please enter off of College Street and go down to the stadium parking to turn around and form a line. Leave the area between College Street entrance and back of the dome for police and high school groups. Parade starts at 2:00. *If your group or organization would like to enter a float, please contact Mrs. Holley at
krholley@italyisd.com
or at 972.483.7411. Pep Rally will be in the dome immediately after the parade. Come join the fun and watch the crowning of the 2021 homecoming king. George Scott Dinner has been canceled this year due to Covid19. Alumni Recognition: Classes ending in "0" and "1" will be recognized at half-time, immediately following the crowning of the homecoming queen. Alumni, wishing to participate, need to meet at 3:00 minutes left until half at the north end of the field to enter the north gate onto the track. Game: Italy vs Marlin, 7:00 kick-off. Presentation of court & band performance at half-time.

ATTENTION JH PARENTS: VOLLEYBALL Game in Blum TODAY (10/4/21) will be 1 game instead of 2. Beginning at 5 pm.

ATTENTION JUNIOR HIGH PARENTS: There is now 1 game at Blum on Monday, 10/4. We apologize for the inconvenience.


Attention Parents Due to illness, there is a shortage of refs. Tuesday's game will be rescheduled to 10/22. The order of play will be Varsity, then JV, then Varsity. Come see these ladies play Blum on Friday in Blum. The order has changed, JV will play @ 4:30 pm with Varsity following.

Attention Parents UPDATE: JUNIOR HIGH VOLLEYBALL will play 3 games on 9/27 against Rio Vista! Beginning at 4:30 pm. See you there!

The Ellis County College Fair is September 22, 6-8pm at the Waxahachie Civic Center. Students must register to attend the event. Registration information is in the Class of 2022 & Class of 2023 Google Classroom.

Attention Juniors and Seniors - Italy High School will offer the ACT on October 19th. The deadline to signup is Friday, September 24th. Please see the HS Counselor for details.



Italy Volleyball update UPDATE: NO JV VOLLEYBALL GAME TOMORROW, September 14th. Covington just sent an email stating that they do not have enough to play.