Italy Homecoming Week September 25-29, 2023 Schedule of Events Monday, September 25th Spirit Theme: ​​R-Rewind (decades) 4:30​​​JH Volleyball Game at Rio Vista Tuesday, September 26th Spirit Theme: ​​O-Out of This World - Tailgate TuesdayDRAFT 5:00 PM​​JV/Varsity Volleyball game @ Penelope 6:30 - 8:30 PM​Italy GladiatorTailgate Party ​​​​*Come out to the HS football stadium parking lot. Bring your families, friends, grills, canopies, chairs, music and favorite backyard BBQ games (Cornhole, ladder ball, etc). Fun for the whole family. PLEASE NO ALCOHOL ALLOWED. This is a school function.​ ​8:00 PM​​Italy Gladiator Band performance at the stadium Wednesday, September 27th Spirit Theme: ​​W-Western Wear Thursday, September 28th Spirit Theme: ​​Die Hard Gladiator - Gold Out 5:00/6:00 PM​​JH/JV Football at Rio Vista 7:30-11:30 PM​​Homecoming Dance in the IHS Old Gym (Grades 9-12 only) Friday, September 29th​No School Spirit Theme: ​​Y-Yell It Loud & Proud - Gold Out 1:30 PM ​Homecoming Parade Line-up *Meet in the parking lot of the Italy Gladiator Stadium. The parade will exit on the new drive entry and head up College Street toward downtown. 2:00 PM ​​Homecoming Parade 3:00 PM ​​Homecoming Pep Rally at the Italy Pavilion downtown 4:30-6:30 PM​​Athletic Booster Club Spaghetti Dinner @ IHS Cafetorium 6:30 PM​​Rio Vista High School Band performance 6:45 PM​​Alumni Recognition for Classes ending in a "3" ​​​​*Class members being recognized need to meet on the north end of the track by the concession stand by 6:40 PM. 7:00 PM​​Football Game Kick-Off versus Rio Vista Halftime​​Italy Gladiator Band Performance Homecoming Coronation

Italy Homecoming Alumni Recognition Information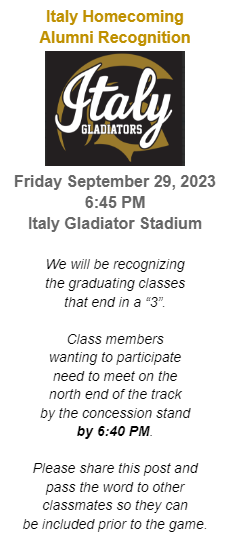 College Fair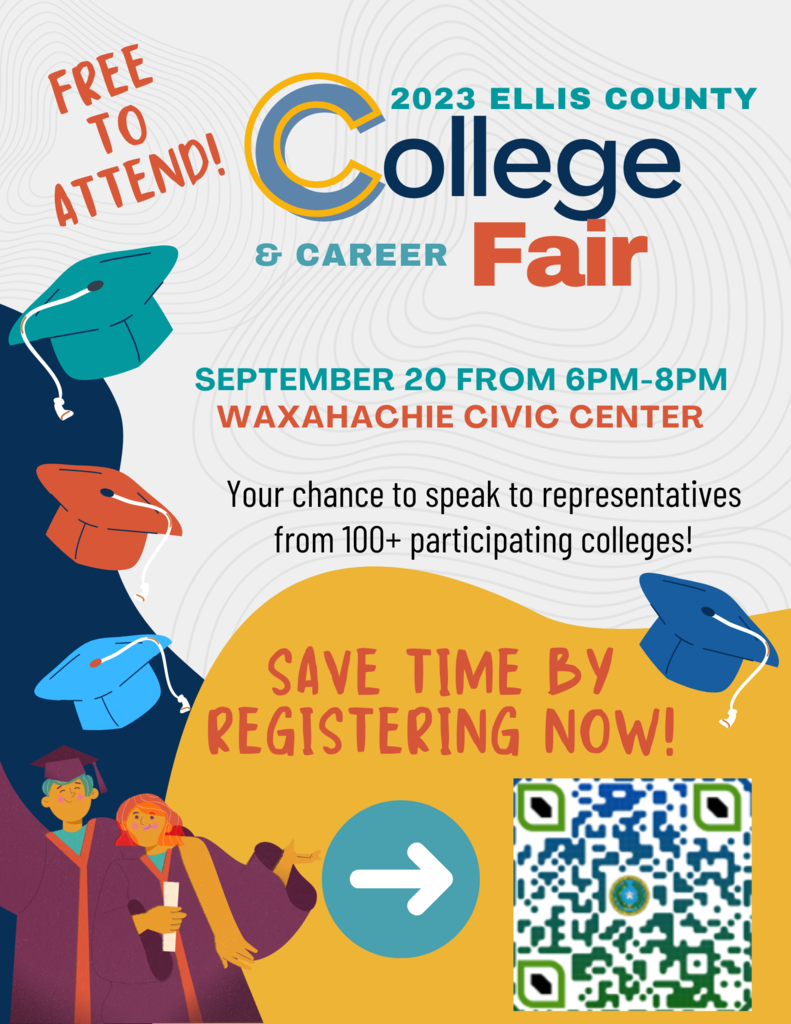 ITALY HS & JHS PHOTO PASS Italy Yearbook staff is starting a new fundraiser campaign. We are selling different option photo passes of your students. Yearbook students spend many hours taking photos and editing them to make the perfect action and candid photographs. After much research and consideration we decided to sell our photos to help us raise funds for events, trips and new equipment. Attached is the different photo packages and order form to sign up. We will be collecting payments and forms during the normal school day and during games when I have staff available. If you have any questions please contact Mr. Glover at
jglover@italyisd.org
Link to Italy HS JHS Photo Pass
https://5il.co/24nh8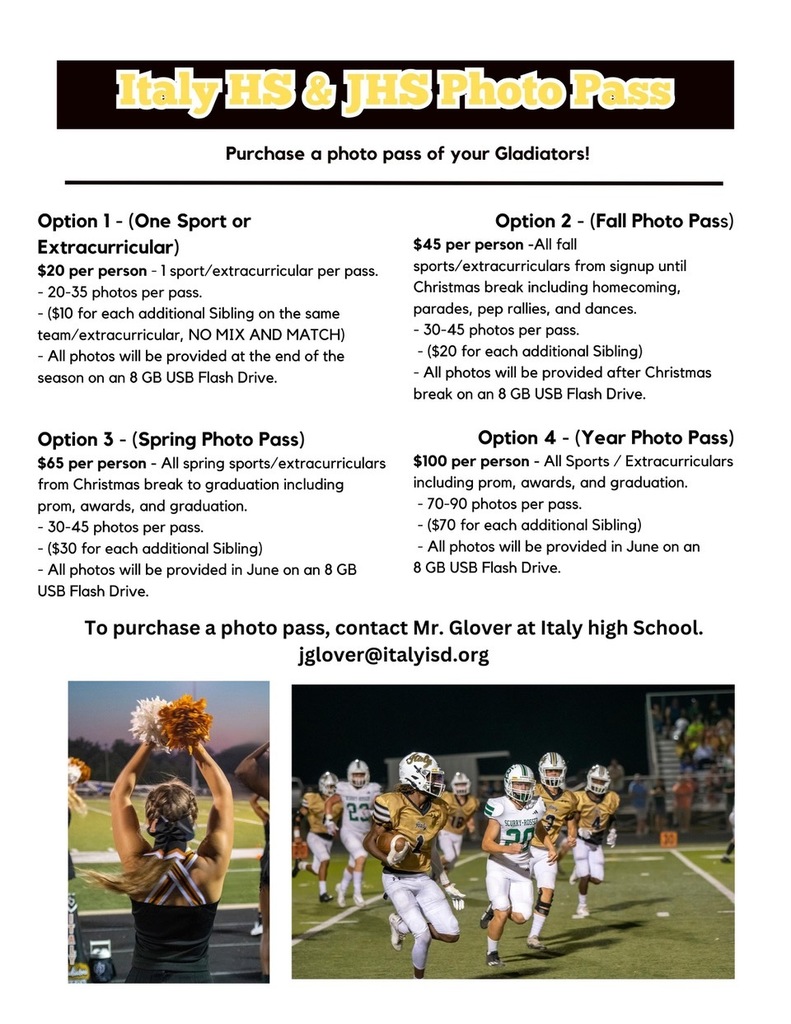 ATTENTION ITALY PARENTS AND STAFF A medical helicopter is landing at Stafford it is not school related.

See Tailgate Tuesday Announcement for Homecoming week.


Please see 2023 2024 Homecoming Week announcement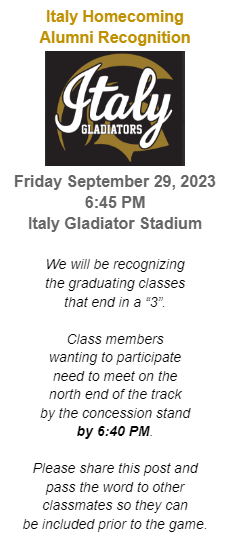 Senior Slideshow Photos Please provide 3-5 pictures of you in your youth. This can be baby pictures, little league sports pictures, or any type of photo you want included in your senior slideshow. If you could send them digitally to Mr. Glover through the Google Classroom assignment or email them to
jglover@italyisd.org
. If you have no way to make your pictures digital we can scan them in as a last resort. All photos that need to be scanned should be delivered in person to Mr. Glover in Room 307 before the due date of October 12, 2023.

PICTURE DAY IS COMING!!! We will be doing Individual pictures and group pictures all day on Monday, September 11, 2023. Below are the time slots that students will be called out of class to get their pictures taken. There are many students who will be pulled out throughout the day multiple times. I'm sorry for these disruptions. I will do my best to get the students photographed and back to class throughout the day. Individual Photos will be in the Old Gym during the day. Athletes and Extracurriculars ALL Group pictures will be in the dome. Please check with your coaches and advisors about what you need to wear for your group picture. Every group listed will take one picture i.e.: Varsity & JV Football will be in the same picture but with different uniforms. If you play both JV and Varsity you will wear the Varsity uniforms unless the coach tells you otherwise, if you play JV only you will wear the different color JV uniform. If you have any questions or concerns about the scheduling please let me know. Extracurricular students, please check with your advisors on what you are wearing for your group pictures. 7:35-7:45 Varsity & JV Football (Dome) 7:45-7:55 JH Volleyball (Dome) 7:55-8:05 JH Football (Dome) 8:05-8:15 JH Cross Country (Dome) 8:30-8:40 Mr. Clark, Ms. Eason, Ms. Ruiz Individual Photos (Old Gym) 8:40-9:00 9th Grade Individual Photos (Old Gym) NO BAND 9:00-9:20 10th Grade Individual Photos (Old Gym) NO BAND 9:20-9:40 11th Grade Individual Photos (Old Gym) NO BAND 9:40-10:00 12th Grade Individual Photos (Old Gym) NO BAND 10:00-10:20 7th Grade Individual Photos (Old Gym) NO BAND 10:20-10:40 8th Grade Individual Photos (Old Gym) NO BAND 10:40-11:00 7th-12th Grade BAND Individual Students (Old Gym) 11:10-11:15 Varsity BAND (Dome) 11:15-11:20 JH Band (Dome) 11:20-11:25 Yearbook (Dome) 1:10-1:20 HS Civil Air Patrol (Dome) 1:20-1:30 JH Civil Air Patrol (Dome) 1:30-1:40 Book Club (Dome) 1:40-1:50 Circle of Friends (Dome) 1:50-2:00 National Art Honor Society (Dome) 2:00-2:10 National Junior Art Honor Society (Dome) 2:10-2:20 JH Cheerleading (Dome) 2:20-2:30 Varsity & JV Cheerleading (Dome) 2:45-2:55 HS Cross Country (Dome) 2:55-3:05 Varsity & JV Volleyball (Dome)

Friday Night Lights in Italy, watching our Gladiator Football Team, is an exciting and fun family-friendly event to show our Italy pride and support our students. Safety and security is of utmost importance not only in our schools but also at all our extracurricular events. For all home football games, all spectators are being asked to remain behind the fence that separates the bleachers/concessions from the track and the field at all times. Spectators will not be allowed on the track or the field before, during or after the game. Staff working the game will be wearing lanyards with access tags in order to fulfill their responsibilities and provide support for students, spectators and guests. At all times, please make sure the only thing our players and fellow spectators hear from us is cheering on our students. Please refrain from heckling, yelling or using inappropriate language towards our coaches and staff or in front of families, students and small children. Let's keep this a family-friendly event. At the conclusion of the football game, players will have a few minutes to meet their families at the fence, however, players will remain on the track and families will remain behind the fence. We look forward to seeing everyone at the game! Have fun cheering on our students and spending time with your family and friends! Go Italy Gladiators!

The Texas Education Agency (TEA) released a new Family Portal on the Texas Assessment website in January 2023. The Family Portal
https://www.texasassessment.gov/
makes it easy for parents and guardians to access their child's State of Texas Assessments of Academic Readiness (STAAR®) results. It also shows each test question and how the student responded, as well as personalized resources to support learning at home. When you go the the district website and log-in to the Parent Portal, the Texas Assessments Link is on the lower left side of the student summary page, which is the same location that you have accessed before during registration and also to review report cards and progress reports.

Italy ISD welcomes our new staff members to the district! We are thrilled they chose our district to make a difference for our kids!!!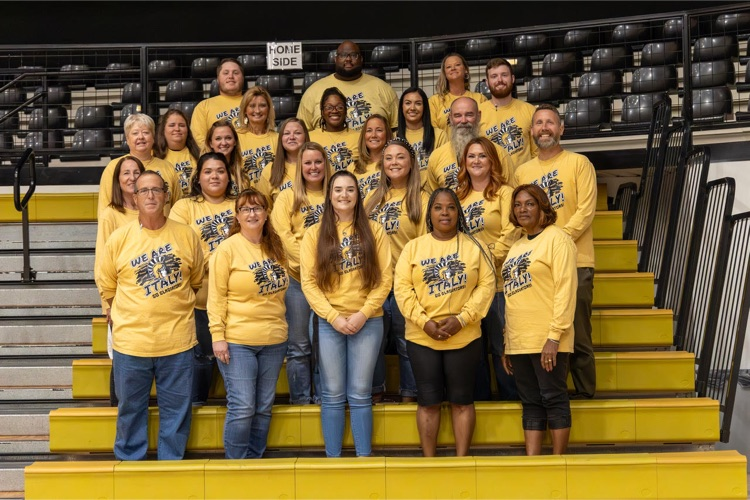 Italy JH/HS Staff are excited and ready to welcome students back to campus for a great 2023-2024 school year! School hours this year are 7:35-4:05. See you on Thursday!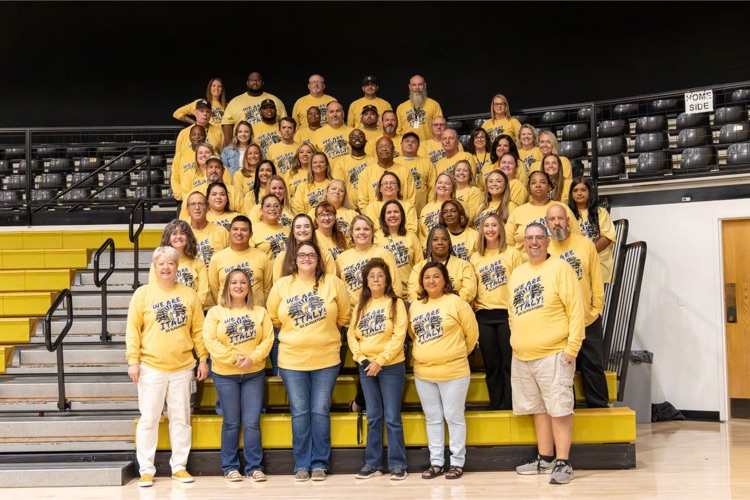 City of Italy Announcement!! Road Closure information: This closure will affect the flow of traffic to and from the high school. There is a map attached.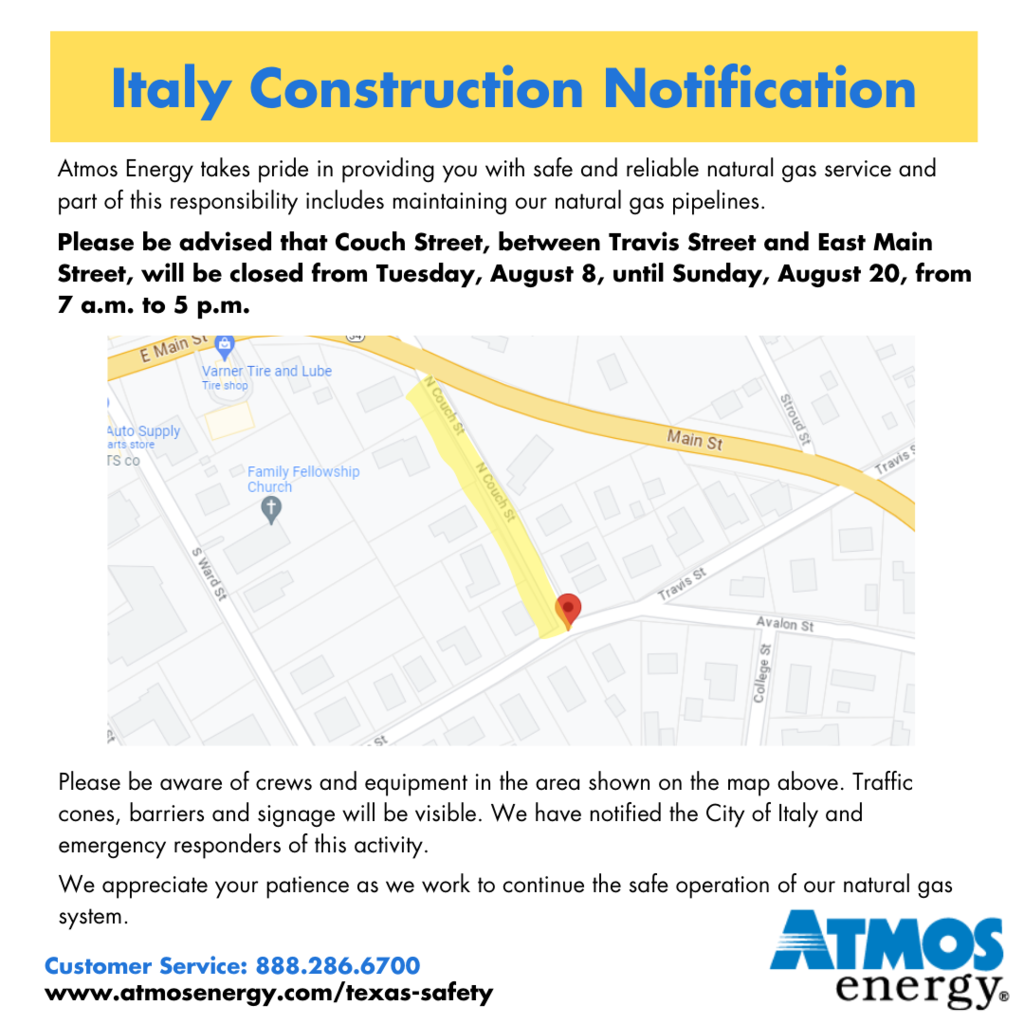 Please bring snacks, laundry detergent, and/or towels to Meet the Gladiator tonight so we can "pack the bus" to be use by ALL of our athletic programs. Thanks for the help in advance. Italy Athletics

Hello Gladiators! I hope each of you have had a GREAT summer! It is now time to get back to Gladiator Nation!! STUDENTS WHO HAVE NOT COMPLETED REGISTRATION AND PICKED UP THEIR SCHEDULE - We will not be completing the registration process or handing out schedules during the meet the teacher/walk the schedule time periods. Any student who has not already completed their registration and gotten their schedule will have to wait until the first day of school to get their schedule. No student will receive a schedule without registration being complete. Students who have completed the registration process but are waiting for a schedule change WILL BE ABLE to pick up their new schedule the evening of Meet the Teacher/Walk the schedule. The schedule for Meet the Teacher/Walk the Schedule will be as follows. Friday, August 4 - 6:00pm-7:00pm - 7th Grade ONLY meet the teacher/walk the schedule Monday, August 7 - 6:00pm-7:00pm - all other grades Sharon Graves Principal Italy High School

Meet the Gladiator Night This Friday August 4th!! See you There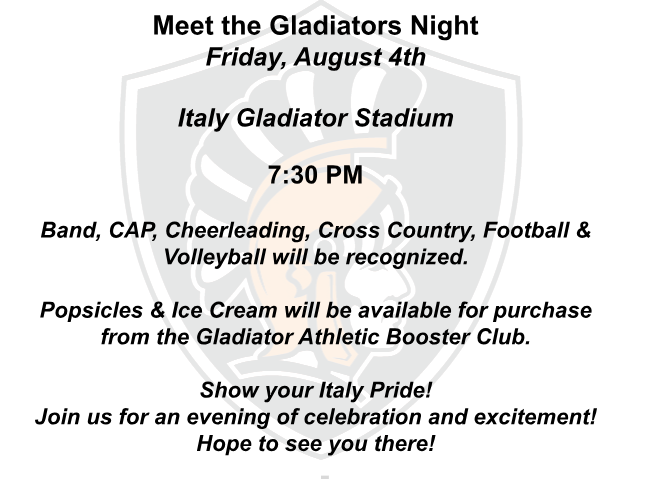 Please see First Day of School Announcement for Italy ISD Here is the working Link to 2023-2024 Italy ISD 4-Day Instructional Week Calendar
https://5il.co/1szqc