Shout out to Italy ISD Principals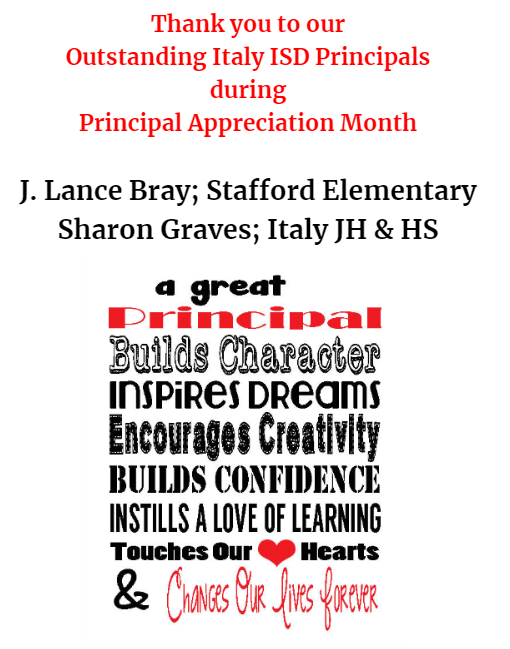 Dear Seniors 2023 Parent/Guardian: In 2022, Texas Education Agency (TEA) has implemented NEW graduation requirements for graduating Seniors. The reasoning behind the requirement is a large amount of "untapped federal resources available for post-secondary education." In better terms, there are funds available for education that are now being used and TEA wants our students to have every opportunity available to take advantage. Many parents have started the process of working through the FAFSA (Free Application for Federal Student Aid) because their student is applying to a higher institution or trade school. Students do have additional options and the high school counselor will be discussing this with your student next week. We see that this seems overwhelming and we are inviting representatives from Navarro College financial aid department to assist you here at Italy High School. Students are asked to bring their laptop and representatives can assist in the process. This event will be Wednesday, November 2nd at 5:30-7:30pm in the OLD Cafeteria. Attached you will find resources for this process. As a reminder - Italy ISD does not have a computer lab, so students are asked to bring their laptop to complete this online process. Should you have questions, feel free to reach me at 972.483.7411, extension 1214. We will work through this together! Go Gladiators! COMMON QUESTIONS: What does FAFSA stand for? Free Application for Financial Student Aid What can I do prior to attending the FAFSA Night? Students need to create a FSA ID at
www.studentaid.gov
Can I use my school email address? Your school email will be deleted once you graduate. Create an account - using an email address OUTSIDE of school email.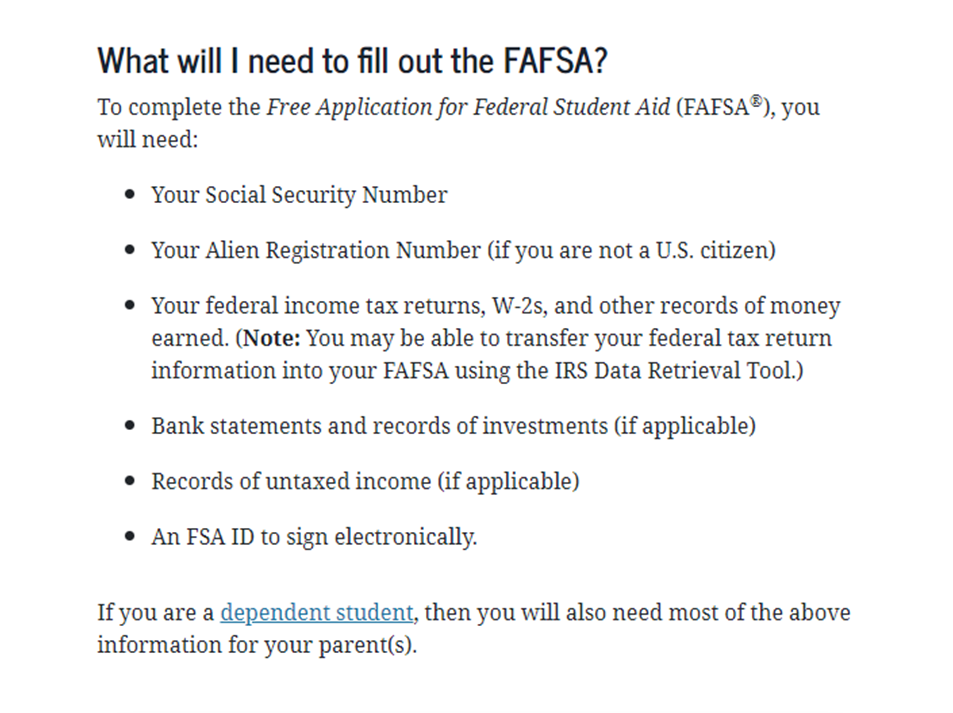 Attention Fire alarms at the high school were activated at approx. 11 AM. Current smoke tests of the sewer lines being conducted by the city caused the sensors to go off. Everyone is accounted for and safe.

Italy JV Football Game this week with Itasca has been cancelled. Itasca will not have a JV for this weeks game. Please share. Thank you.

See informatio about Carter Blood Drive


Juniors & Seniors ~ The deadline to register for the ACT is today, October 4th. Mrs. DeBorde Italy Junior High/High School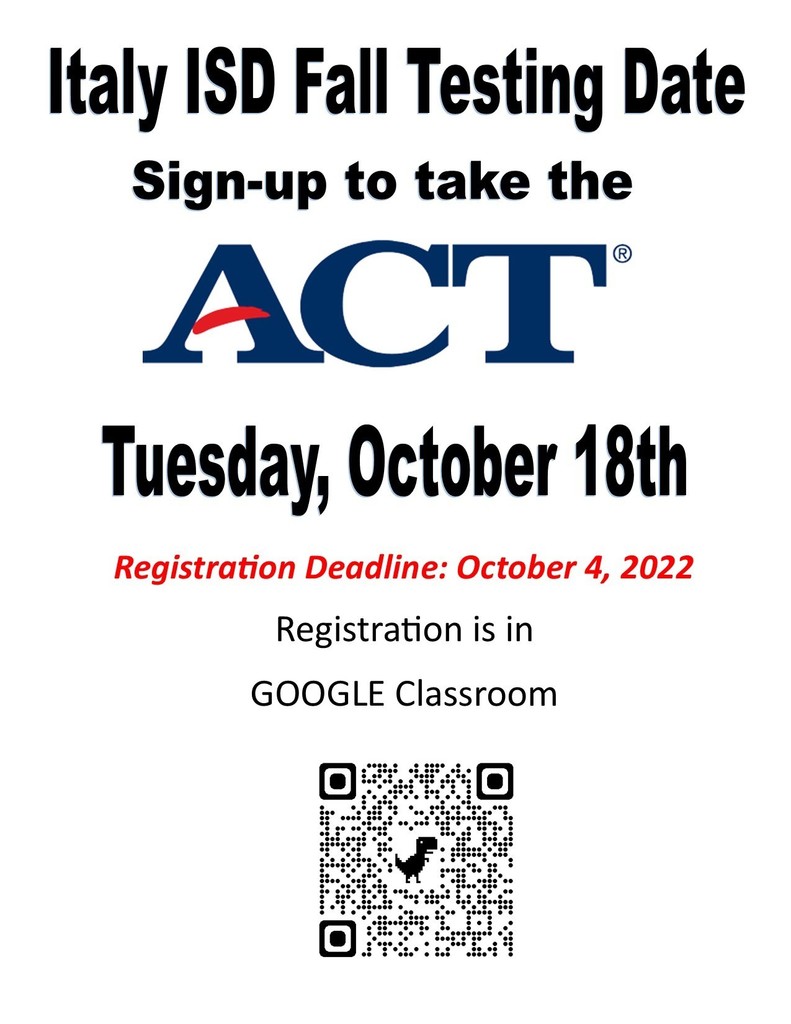 Friday Night Lights Safety and Security Reminders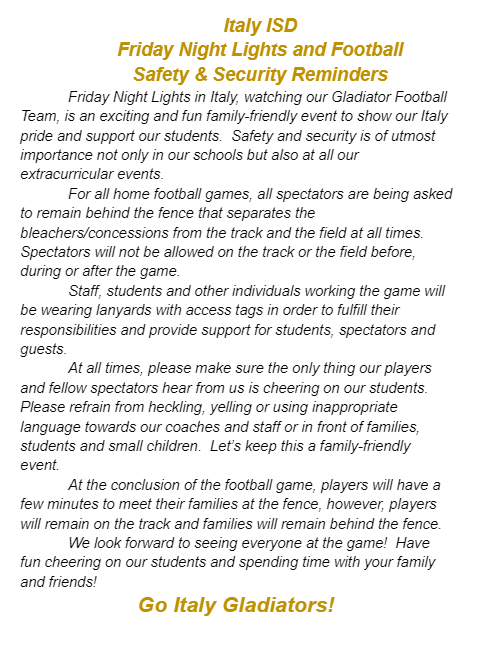 Italy Homecoming Information for this Friday HOCO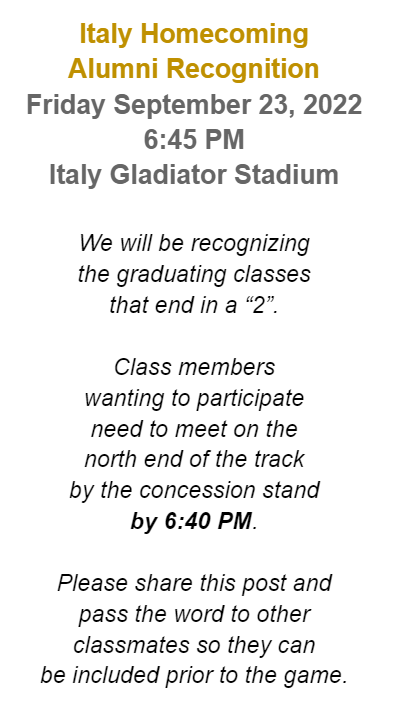 Today is Tailgate Tuesday!!!!!!!!!

30 Day Grace Period for Free/Reduced Lunch Applications The carry-over grace period for students that qualified for free and/or reduced meals during the 2021-2022 school year ends on September 23, 2022. This carry-over grace period lasts for 30 operating days or until there is a new eligibility determination, whichever comes first. During this carry-over period, or until a new eligibility determination is made, reimbursable meals for these students may be claimed at the free or reduced rate. For families that have not yet applied for free/reduced meals for the 2022-2023 school year, September 23, 2022 will be the last day that your child(ren) will receive free or reduced breakfast and lunch.

Ellis County College Fair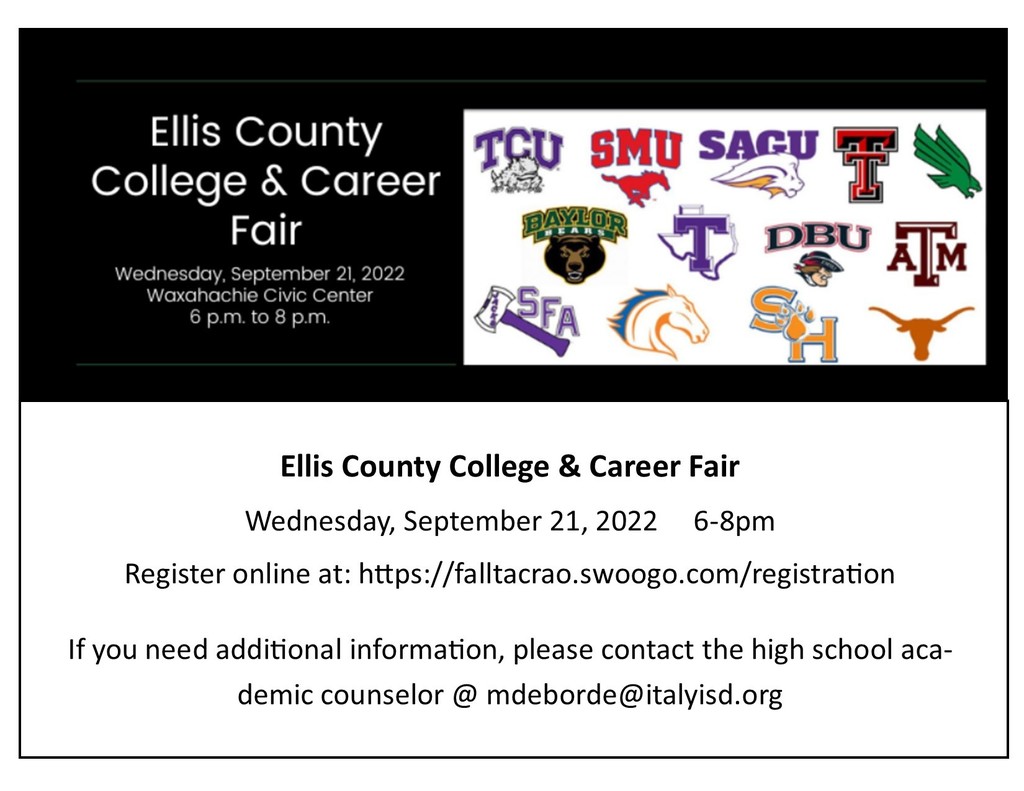 Please see Flier


Please Read.


Please Read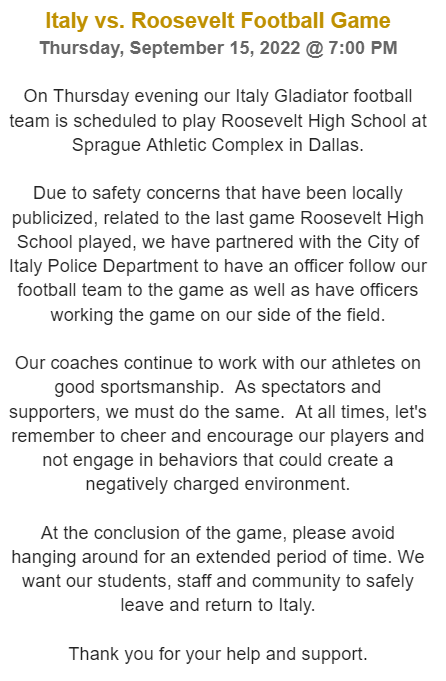 The Navarro College CTE Division would like to invite your 8th through 12th grade students to our Explore CTE-Mini Sessions to be held in Ellis County Campuses on the following dates. Waxahachie Campus: Friday, October 7th from 9:00am to 11:00am in Building B; Room 142 & 143 Students will have the opportunity to learn about all of our programs and pathways and explore some hands on experiences. Please find below the registration link for the event. Please register by September 30th to reserve your students spots.
https://forms.office.com/r/qsDagCaJ3G
Please do not hesitate to contact Amanda Jordan at: 903-875-7571;
amanda.jordan@navarrocollege.edu
or myself should you have any questions

Please see flier attached.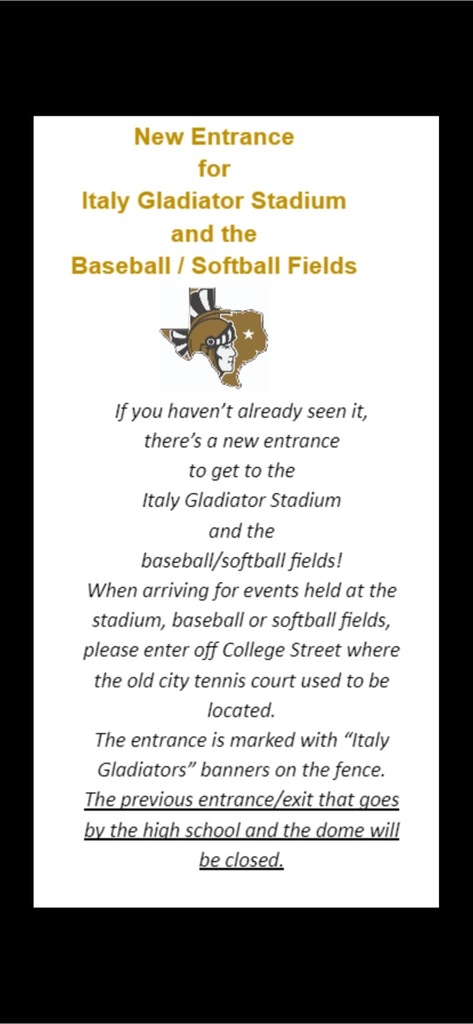 — Italy Jr. High & J.V. Football - Game Time Updates — Both teams play AWAY @ Chilton, Thursday, September 1: JH Gladiators vs. Chilton @ 4:30 p.m. (Scrimmage format) JV Gladiators vs. Chilton @ 5:00 p.m. These updated times override any previous schedules. GO ITALY!!!! ihs.italyisd.org

Please see attached Flier for Italy ISD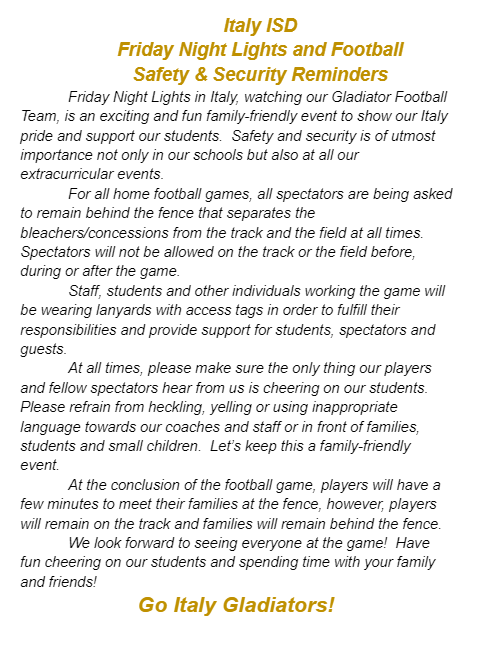 iWatch Information