Parents and Community, Please come be our guest on Thursday, November 11, 2021 at 10:00 AM in the Dome for our Veteran's Day program. We want to honor any and all veterans in our community and beyond. Also, come back to the Dome at 3:05 PM for a pep rally as we send our varsity football team into the playoffs. We are so proud of them, and I know you are too. Come cheer them on before they leave for their game! Thanks! Sharon Sharon Graves Principal Italy High School


Attention all Graduating Seniors Please see pic of flier attached for FASFA working session for seniors and Parent/Guardians at Italy High School.

Homecoming 2021 Festivities Homecoming: Friday, October 8, 2021 Parade Information: Line Up begins at 1:30 – If you have a float, please enter off of College Street and go down to the stadium parking to turn around and form a line. Leave the area between College Street entrance and back of the dome for police and high school groups. Parade starts at 2:00. *If your group or organization would like to enter a float, please contact Mrs. Holley at
krholley@italyisd.com
or at 972.483.7411. Pep Rally will be in the dome immediately after the parade. Come join the fun and watch the crowning of the 2021 homecoming king. George Scott Dinner has been canceled this year due to Covid19. Alumni Recognition: Classes ending in "0" and "1" will be recognized at half-time, immediately following the crowning of the homecoming queen. Alumni, wishing to participate, need to meet at 3:00 minutes left until half at the north end of the field to enter the north gate onto the track. Game: Italy vs Marlin, 7:00 kick-off. Presentation of court & band performance at half-time.

ATTENTION JH PARENTS: VOLLEYBALL Game in Blum TODAY (10/4/21) will be 1 game instead of 2. Beginning at 5 pm.

ATTENTION JUNIOR HIGH PARENTS: There is now 1 game at Blum on Monday, 10/4. We apologize for the inconvenience.


Attention Parents Due to illness, there is a shortage of refs. Tuesday's game will be rescheduled to 10/22. The order of play will be Varsity, then JV, then Varsity. Come see these ladies play Blum on Friday in Blum. The order has changed, JV will play @ 4:30 pm with Varsity following.

Attention Parents UPDATE: JUNIOR HIGH VOLLEYBALL will play 3 games on 9/27 against Rio Vista! Beginning at 4:30 pm. See you there!

The Ellis County College Fair is September 22, 6-8pm at the Waxahachie Civic Center. Students must register to attend the event. Registration information is in the Class of 2022 & Class of 2023 Google Classroom.

Attention Juniors and Seniors - Italy High School will offer the ACT on October 19th. The deadline to signup is Friday, September 24th. Please see the HS Counselor for details.



Italy Volleyball update UPDATE: NO JV VOLLEYBALL GAME TOMORROW, September 14th. Covington just sent an email stating that they do not have enough to play.

UPDATE: JUNIOR HIGH GIRLS VOLLEYBALL will only play 1 game against Avalon on Monday, September 13th in Avalon, beginning at 5 pm

The Junior class is doing a fundraiser to raise money fo the 2021-2022 Prom selling Nothing Bundt Cakes Flavors are $5.00 ea. Chocolate chip Red Velvet White chocolate raspberry Lemon Confetti Classic Vanilla Orders are due Tuestday, September 14th Orders come in Thursday, September 30th To order please contact the School or find a Junior Class Member *Money is also due September, 14th* Cash or Checks made to Italy ISD Thank you!
pwhite@italyisd.org
972-483-7411


Dear Parents, I just wanted to inform you that next Wednesday, September 1, 2021 is school picture day. All students will take pictures as this will be the photo that goes in the yearbook and that is used for student ID's. Please see the attached information form explaining the process of ordering pictures online. Senior pictures will be scheduled at a later date. Thank you! Sharon Graves, Principal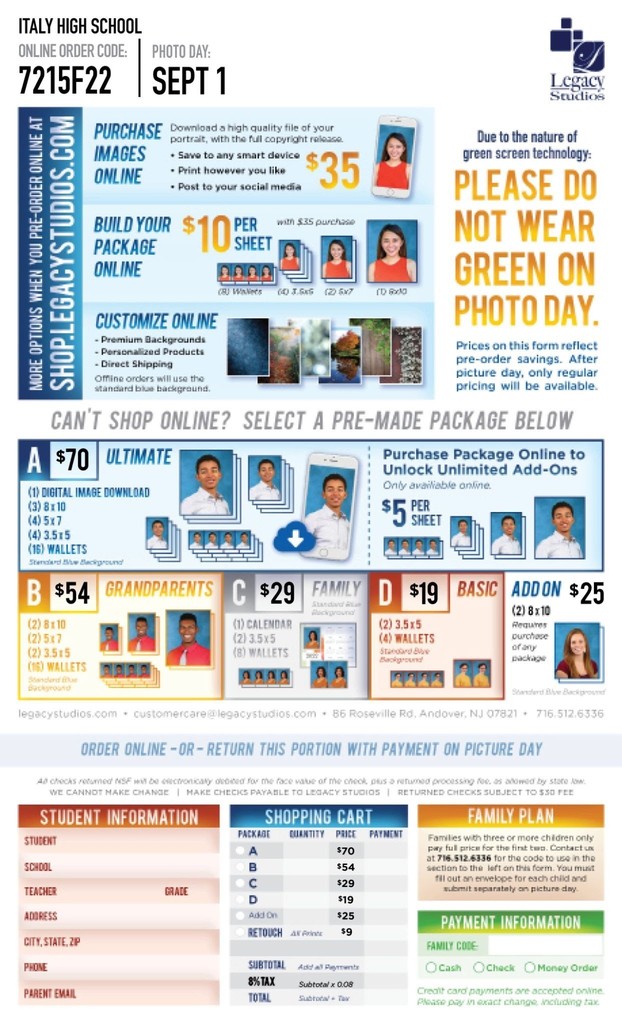 ALL Junior High and High School schedule changes are to be finalized by Friday, August 27th. Please see the Counselor (Room 100 B, Corridor C) to complete a "Course Change Request". ***Must have teacher and parent signature""" Thank you, Meredith DeBorde Italy Junior High/High School Counselor "One Voice, One Direction, One Team"