2021 Ellis County College Fair



Attention Parents: Reserved season passes for Italy ISD football will go on sale Monday, 8/23 in the admin office. $30 each seat. 972-483-7411
www.italyisd.org


Attention Italy ISD Parents, If you were unable to come to Jr High and High school schedule pick up today, you have another chance to come tomorrow. We will be open 1:30pm to 4:30 pm for anyone who wants to come pick up their schedule and Chromebook for the new school year. We will also reopen from 6:00pm to 7:30pm for the parents that can't make it to the earlier time slot. Remember we also have Meet the Teacher tomorrow night from 6:30pm to 7:30pm. That means you can come complete your students' registration, pick up their chrome book, pick up their schedule and meet their teacher in one evening. Just remember this you need to complete your online registration before you can pick up schedules. You will also have the opportunity to complete the online lunch application as well. Chrome book fees are $25 full, $15 reduced, and $10 for free lunch, and if you have more than one student, each additional student is only $10 unlimited. Don't forget that your student can also pay the first week of school and pick up their chrome books then as well. Hope to see you tomorrow night!

Awesome Job today by ALL teams! Your Lady Gladiators are ready for their next scrimmage, tomorrow at 10 am in the dome! Also, see the updated information pertaining to practices: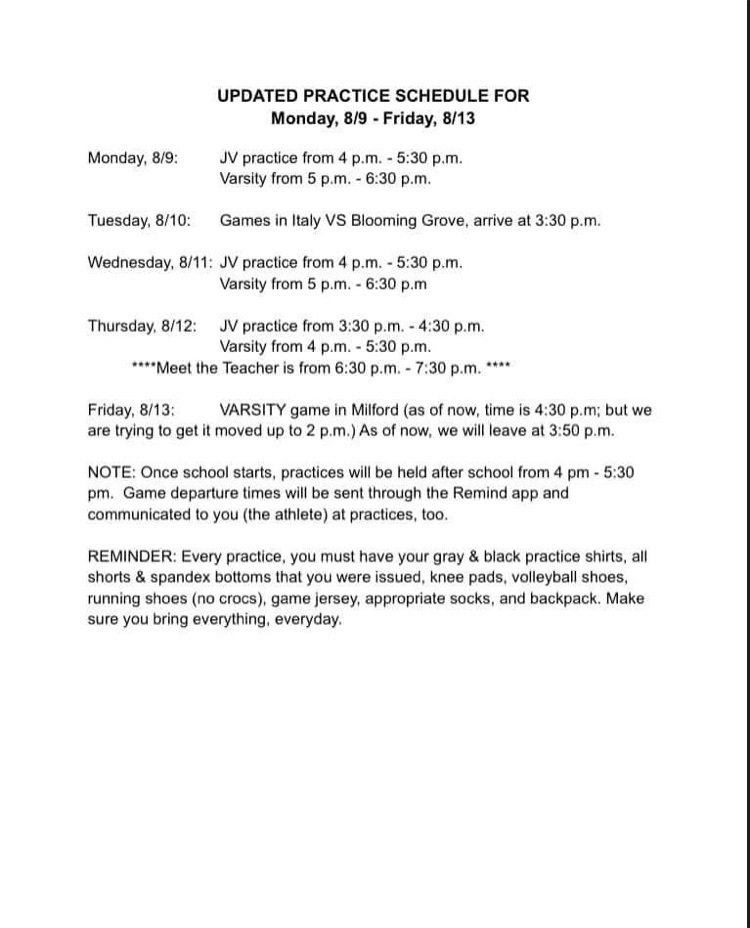 Parents when registering your student please make sure you fill out a lunch application. This is located on the left hand side under 'Links' Also reminder Wednesday August 11th is schedule pick up. Please make sure all registration is completed.
ATTENTION: Jr. High and High School Parents If your students want their schedule before meet the teacher or the first day of school please make sure you have completed registration. NO SCHEDULES WILL BE GIVEN UNTIL REGISTRATION IS COMPLETED. Please call 972-483-7411 for any questions.

REMINDER PARENTS: Registration for the new 2021-2022 school year for Italy ISD OPEN. All registration will be conducted online in the Ascender Parent Portal just like last year. There have been some updates to the Ascender parent portal, the new link to the parent portal is
https://portals10.ascendertx.com/ParentPortal/login?distid=070907
Your login from last year will be the same as last year, if you have forgotten your password please click on the forgot password or forgot user name link to reset them. Once you are logged in you will see your students already waiting for you to continue their registration. For new student registration, please click on the Create Account tab to begin registering a new student who was not in Italy the year before. Please continue the registration and verify that all the information is current and up to date. Please double check the address information for parents, students, and emergency contacts is correctly entered into the correct space. This information is important and needs to be accurate so that when Italy ISD sends out messages and alerts that they go to the correct people. If you have any trouble with getting your user name or passwords, please contact the campus secretary of either school for assistance. The new Principal for Italy High School has a document for the Jr High and High school students and parents. Please read it carefully so you will know what is expected to have a smooth registration for the new year. Please make sure you have completed this in order to receive your schedule. If you have any questions please call 972-483-7411


The Italy High School Girls End-of-Year All-Sports Awards Ceremony will be held Monday, August 2, 2021, inside the Cafetorium. The event will start at 7:00 p.m. and fans from the community are welcome to attend. GO LADY GLADIATORS!!! ihs.italyisd.org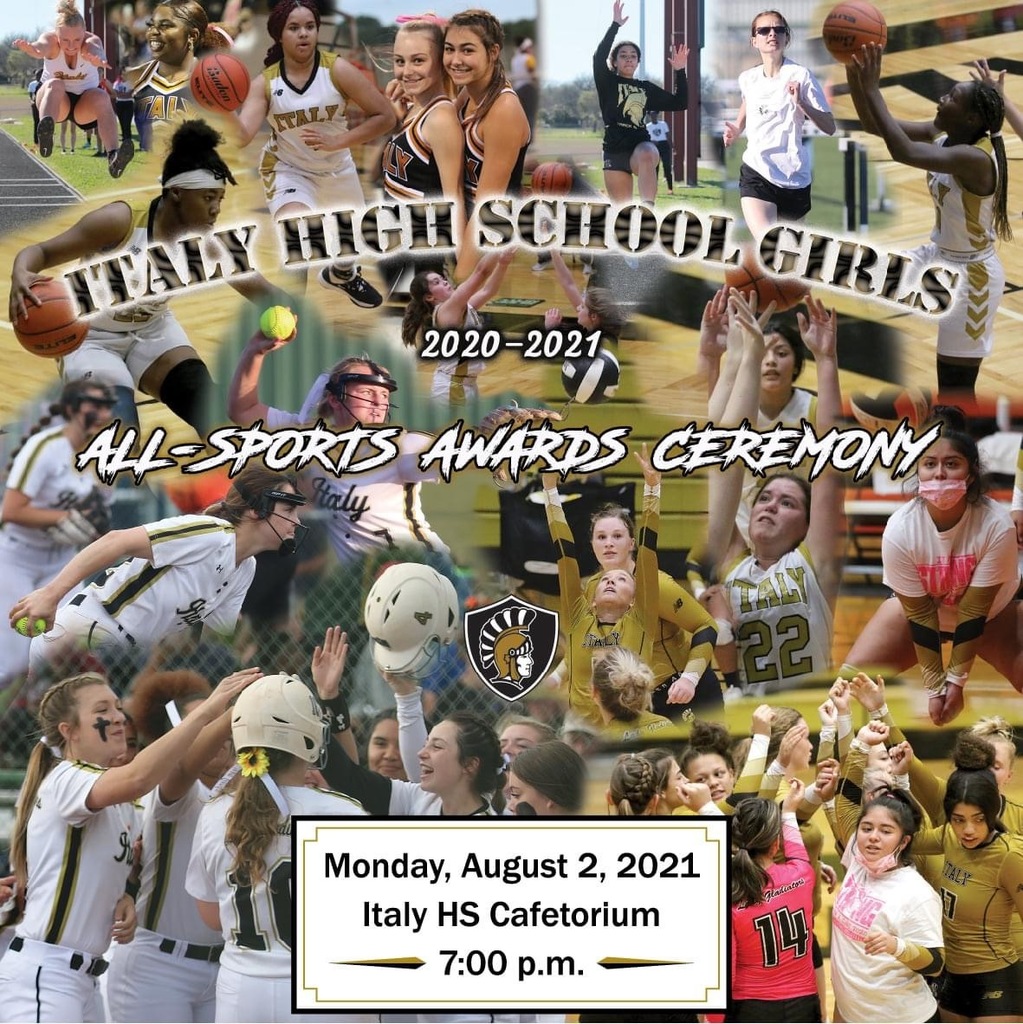 Please see below. Congratulations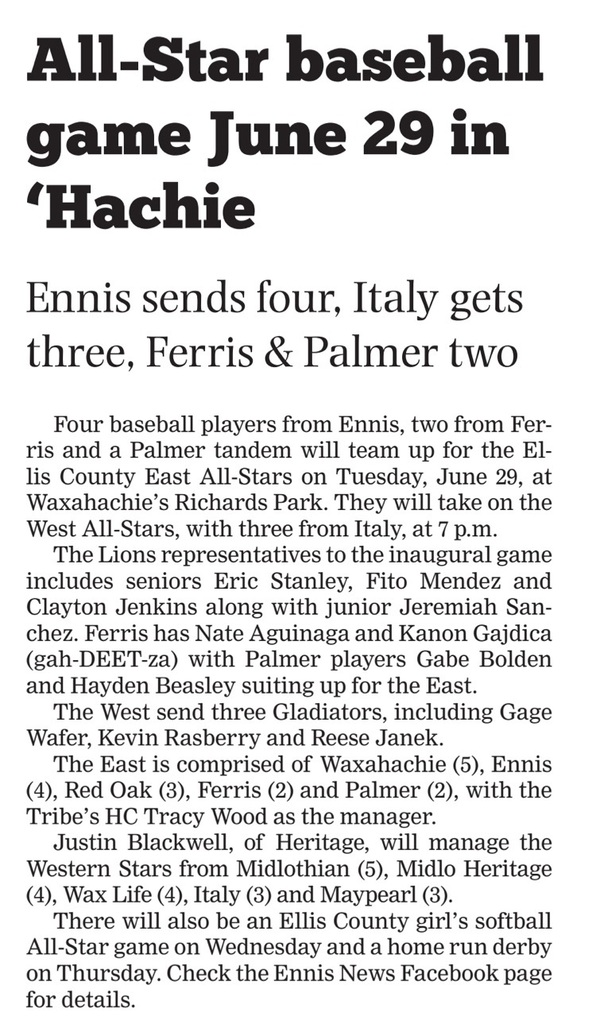 See 2021 Summer workout schedule for Italy ISD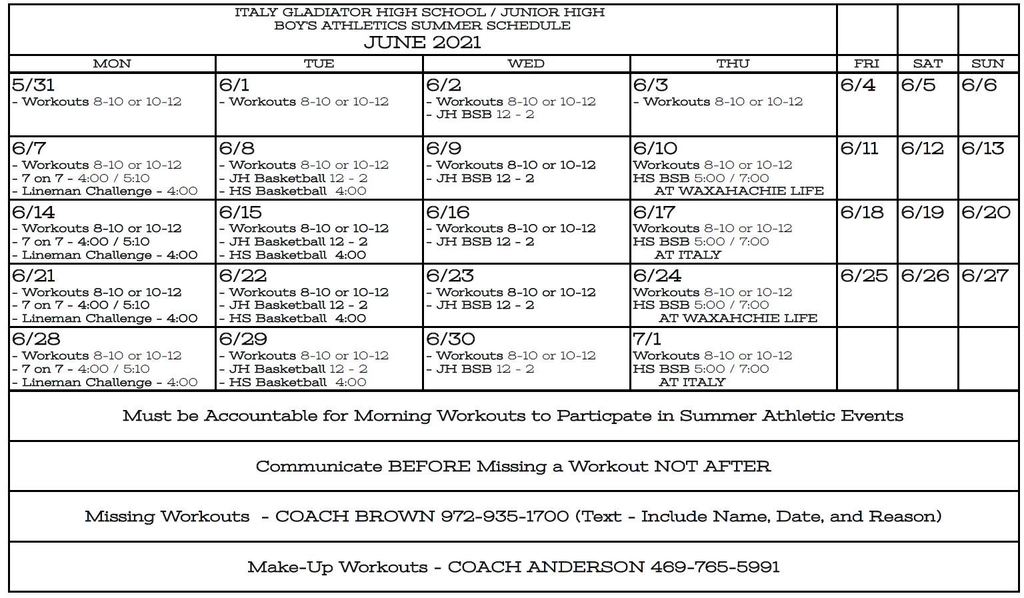 American Rescue Plan - Elementary and Secondary School Emergency Relief III (ESSER III) Italy ISD will be applying for and receiving ESSER III funds. The application deadline is July 27, 2021. The purpose of these funds is to address the impact that COVID-19 has had, and continues to have, on elementary and secondary schools and students. Italy ISD is reaching out to parents, community, teachers, staff, and students to obtain guidance on developing a plan to meet our needs. Please see the survey below and share your thoughts on the use of the ESSER III funds. The survey deadline is June 9, 2021
https://forms.gle/urMN7mHwuG8TEwkj7

Did your child receive free or reduced-price school meals through the National School Lunch Program during the 2020–21 school year? If so, your family may be eligible for P-EBT benefits to purchase food. The P-EBT application opens June 2. For more information: Website: hhs.texas.gov/pebt Phone: 833-442-1255 Spanish
https://5il.co/t4u9
English
https://5il.co/t4ub

— Italy HS Senior Award Ceremony — We cordially invite you to the Italy High School Class of 2021 Senior Award Ceremony for the presentation of local scholarships and awards. Date/Time/Location: Wednesday, May 26, 2021 @ 9:30 a.m. Italy High School Dome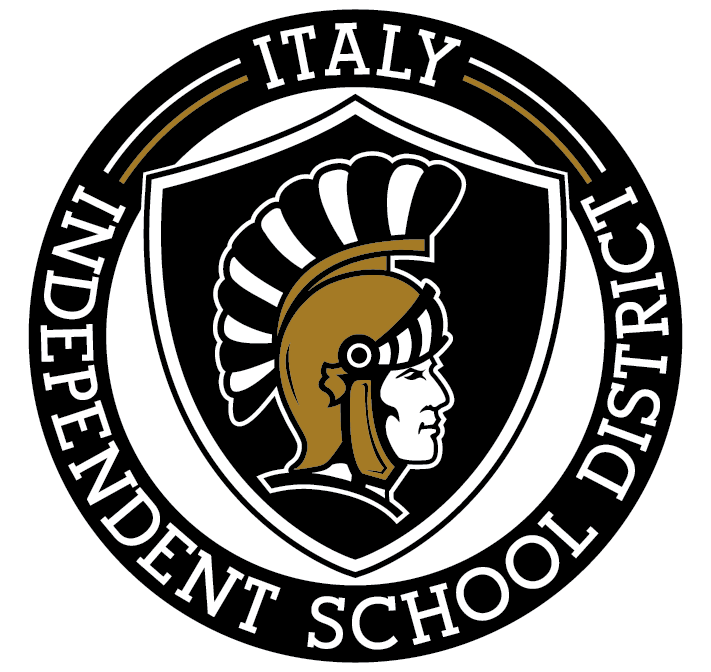 The Italy ISD School Board met on May 17, 2021. At the meeting, a decision was made to discontinue the option for virtual instruction beginning with the 2021-2022 school year. Students will report to their schools in-person on the first day of class, August 16, 2021. Details on registration for current and new students will be available towards the end of July. Watch your email for more information.

Good morning and welcome to Tuesday!!! Last night at the board meeting it was decided to make masks optional beginning today. Those who want to wear them may do so but it is not required. Masks will continue to be available for those who want them.

On Tuesday, May 18th, the Junior High Band will be presenting their Spring Concert at 3:15pm in the Cafetorium. It will also be presented via Live Stream on the Italy ISD Facebook page. All are invited to attend. Hope to see you there! Mrs. Kimmons-Choate, Assistant Band Director.